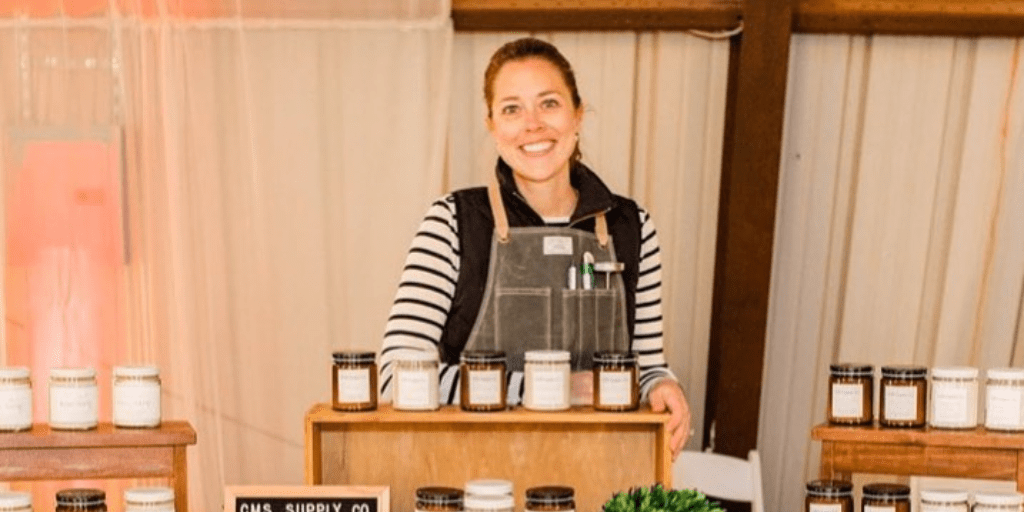 CMS Supply Co was created in 2019 by Cady McKim Sinks. A wife, mother, and maker, Cady loves to create.
For years she has kept her hands busy with knitting. And that won't ever stop. But in 2019, she decided to experiment with candle making. A lifelong candle lover and candle gift giver, she wanted to find a way to keep her home cozy without all the soot and toxic chemicals.
Enter, pure soy wax combined with phthalate free fragrance and essential oils. Soy wax is derived from American grown soybeans. When burned, soy wax produces an incredibly clean burn which means that candle vessels are not covered in soot. (Please note that you must trim your wicks as instructed on the safety sticker of each candle.)
From the first candle she made, Cady was hooked. There was an incredible amount of science as well as trial and error but once Cady discovered a process that worked for her and the candles she liked – she dove deep. Today you can find Cady pouring candles by hand, trying out new products to bring to the shop, tending her farmer's market booth, or handling dozens of behind the scenes tasks.
One of the most exciting things to come out of making candles has been our ability to give to local charities as well as become a project sponsor through charity: water. Our hope is that this small, artisan business continues to grow and allow us the opportunity to give even more.